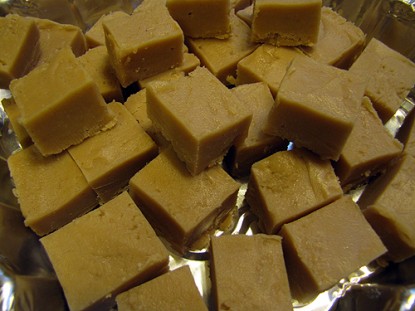 Difficulty: Easy
Servings: 1 pound
Prep Time:
15 minutes
Ingredients
1 cup creamy peanut butter
1 cup butter
1 teaspoon vanilla
4 cups sifted powdered sugar
Directions
Line an 8- or 9-inch square pan with buttered waxed paper. Combine the peanut butter and butter in a microwave-safe bowl and heat for about one minute. Stir. It should be all melted now. You can also do this on the stovetop if you don't like to use the microwave. Stir in the vanilla, then the sifted powdered sugar. Spread in the prepared pan. Chill for about two hours then cut into one-inch squares.
Categories: Candy
Submitted by: suzanne-mcminn on December 17, 2013