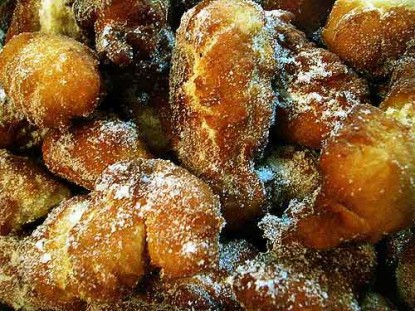 Difficulty: Easy
Servings: multiple
Prep Time:
15 minutes
Cook Time:
a few minutes
Ingredients
1/4 cup butter or shortening
1 cup sugar
2 eggs
1 cup milk
3 1/2 teaspoons baking powder
1/4 teaspoon grated nutmeg
1/2 teaspoon salt
4 cups all-purpose flour
Directions
Cream the butter or shortening. Add sugar; then the well-beaten eggs. Stir the baking powder, nutmeg, and salt with one cup of flour and add alternately with the milk to the first mixture. Add additional flour until you have a dough stiff enough to handle. Toss on floured board, roll one-half inch thick and cut into strips. Twist and fry in deep fat.
These fry up fairly quickly so pay attention. Flip them if you're not frying them in a really deep fryer and remove quickly to prevent overfrying.
Drain; when cold roll in powdered sugar. (I just sprinkled them with regular sugar, while still warm, and ate them, while still warm. All of them. Okay, not really, but this required a lot of restraint.)
Categories: Breads, Breakfast, Kid-Friendly, Old-Fashioned, Pastries
Submitted by: suzanne-mcminn on July 28, 2010