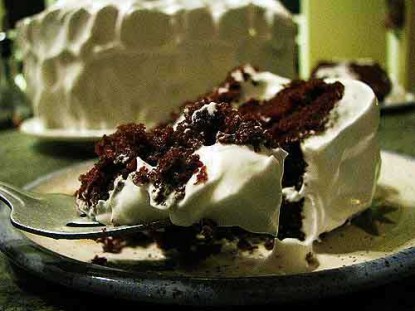 Difficulty: Easy
Servings: 12
Prep Time:
15 minutes
Cook Time:
30-35 minutes
Ingredients
2 1/2 cups all-purpose flour
1 cup unsweetened cocoa powder
1 1/2 teaspoons baking soda
1/2 teaspoon baking powder
1/2 teaspoon salt
1 cup butter, softened
1 3/4 cups sugar
3 eggs
1 1/4 teaspoons vanilla
1 2/3 cups milk
Directions
Heat oven to 350-degrees. Grease and flour two round cake pans. In a medium-size bowl, combine flour, cocoa, baking soda, baking powder, and salt. In another, larger bowl, combine butter, sugar, eggs, and vanilla. Beat well. Add flour mixture and milk; beat again. Pour batter into prepared pans. Bake 30-35 minutes, or until a toothpick inserted in the center comes out clean. These are tall layers and may take a bit longer to bake than you are accustomed to. However, ovens are different. For me and my oven and my cake pans, it takes the full 35 minutes. Your mileage may vary depending on your oven and whether your cake pans are 8-inch or 9-inch. Please watch your cake carefully. Do not open the oven during the first 15 minutes of baking–it may make your cake fall. At 30 minutes (or even 25 if your oven bakes quickly), check your cake with the toothpick test until done. Do not overbake! Cool on wire racks for 10 minutes then invert to cool completely.
If baking as cupcakes, cupcakes will be done in about 15-20 minutes. In a large rectangular baking pan, cake will be done in approximately 30 minutes.
Categories: Cakes, Desserts, Old-Fashioned, Special Occasions
Submitted by: suzanne-mcminn on April 4, 2011