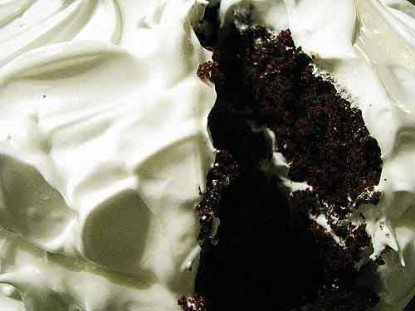 Difficulty: Easy
Servings: frosts one cake
Prep Time:
15 minutes plus chilling time
Cook Time:
n/a
Ingredients
1 1/2 cups sugar
1/2 cup water
1/2 teaspoon cream of tartar
3 egg whites
1 1/2 teaspoons vanilla
Directions
Combine sugar, water, and cream of tartar in a pan on the stove. Cook till bubbly and sugar is dissolved. In a bowl, combine egg whites and vanilla. Add sugar mixture to egg whites, a little at a time, beating constantly. Continue beating until stiff peaks form. Easily frosts a two-layer cake. I can't stand it when a recipe doesn't make enough frosting. This one makes plenty. When you first make the frosting, it will be a bit warm from cooking the sugar-water mixture. It spreads easier if you refrigerate it for 30 minutes before frosting the cake. Make the icing while the cake is baking.
Categories: Desserts, Frostings & Icings, Old-Fashioned
Submitted by: suzanne-mcminn on April 4, 2011