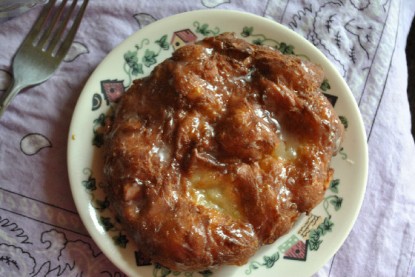 Difficulty: Easy
Ingredients
Single Loaf Grandmother Bread
1/4 cup butter, softened
3 egg yolks
1 1/2 tablespoon cinnamon
Apple Mixture:
4 medium apples, peeled, cored, and sliced thin
1 tablespoon butter
1 teaspoon brown sugar
1/2 teaspoon cinnamon
Directions
Saute the apple mixture ingredients until tender. Cool.
Make the bread according to directions, adding the butter, egg yolks, cinnamon and apple mixture along with the first 3 cups of flour. Let rise until double.
Flour the counter really well and use about 1/2 a cup of dough out at a time. Roll it into a ball on the floured counter, then stretch it into a thinner round (imagine stretching a pizza crust).
Fry in 350 degree oil. Cook about 2-3 minutes on each side, until golden brown and delicious. Drizzle with Vanilla Glaze.
Categories: Breads, Desserts, Doughnuts, Fruit Breads, Yeast Breads
Submitted by: charleycooke on May 14, 2012