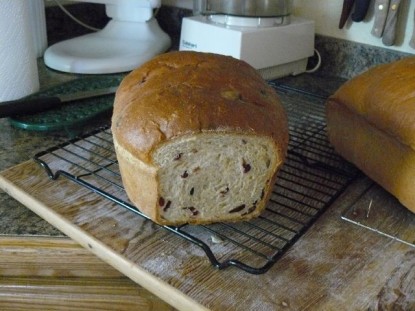 Difficulty: Easy
Servings: 1 loaf - 12 pieces or more
Prep Time:
20
Cook Time:
30 to 40 minutes
Ingredients
3 cups King Arthur Unbleached Bread Flour
1 cup rolled oats (old-fashioned oats)
2 tablespoons butter or margarine
1 1/2 teaspoons salt
3 tablespoons brown sugar or honey
2 teaspoons instant yeast OR 1 packet active dry yeast*
1 1/4 cups lukewarm milk
3/4 cup raisins or currants (optional)
*If you use active dry yeast, dissolve it in the warm milk before combining with the remaining ingredients. I use SAF instant yeast so just dumped it in with the other ingredients.
Directions
Dump all ingredients into large mixing bowl.
Stir together and knead either with mixer or by hand.
I used my large Kitchen Aid mixer and did the entire thing in it. I kneaded it about 6 minutes.
Let rise l hour. It will get puffy and large buy may not double (mine did).
Punch down, form roll and place in greased 9 x 5 loaf pan (I used a greased casserole dish)Cover with greased wax paper (I didn't cover mine) Let rest 60 to 90 minutes until at least l inch above the pan. Note: My loaf rose much higher in one hour. Bake at 350° 35 to 40 minutes. Test with thermometer for an internal temperature of 190°.
Watch closely for browning. I sometime have to tent foil over the top so it won't over-brown (burn).
Categories: Bread Machine, Breads, Other Breads, Yeast Breads
Submitted by: glendad on October 24, 2012