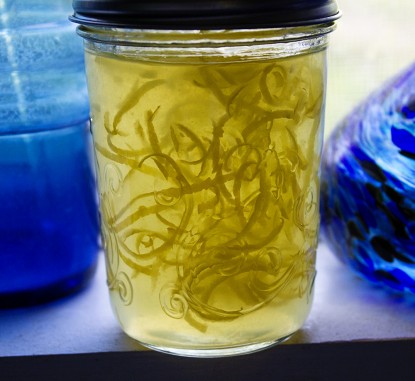 Difficulty: Easy
Servings: 1.5 - 2 pts
Prep Time:
15 minutes
Cook Time:
10 minutes
Ingredients
2 cups cold water
zest and juice of 1 lemon
1/3 cup [rounded] Dutch Jell All Natural Lite pectin [5-6 Tablespoons]
1 cup lemon verbena simple syrup
Directions
Dissolve the pectin in the cold water in a pot with the lemon juice and zest. Bring to a boil. Stir constantly and bring to a full rolling boil that you can't stir down. Boil hard for 1 minute. Add the simple syrup. Bring back to a full rolling boil and boil for one minute. Ladle into clean dry jars. Makes 1 1/2 – 2 pints.
Categories: Appetizers & Snacks, BWB Jams, Jellies, Butters & Preserves, Fat-Free, Gift Basket Goodies, Gourmet, Low-Fat, Presentation, Syrups, Vegan, Vegetarian
Submitted by: rurification on October 22, 2012