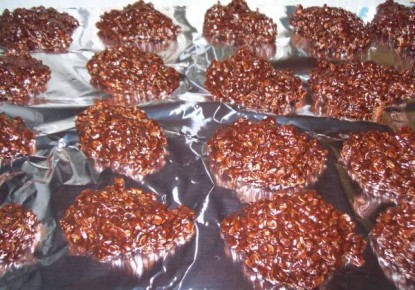 Difficulty: Easy
Servings: Makes approx. 15 - 1/4 cup cookies
Cook Time:
Total Prep/Cook Time: Approx. 10-15 minutes
Ingredients
Ingredients:
2 cups sugar
1 stick oleo (which is 8 tablespoons or 1/2 cup)
1/2 cup milk
1/4 teaspoon salt
3 tablespoons cocoa (can use 2-3 spoons more if desired)
1 teaspoon vanilla
1/2 cup peanut butter
3 cups quick oats oatmeal (approx.)
Directions
Bring sugar, milk, oleo, cocoa, and salt to boil. Boil one (1) minute or until a ball forms in cold water. Remove from heat, add vanilla, peanut butter and stir…then stir in oatmeal. Drop on waxed paper or aluminum foil and let them cool.
Categories: Cookies & Bars, Desserts
Submitted by: nataliecyphers on May 1, 2010