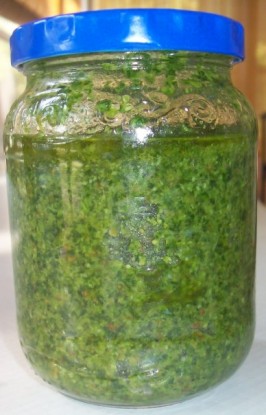 Difficulty: Easy
Servings: Approx. 10 fl. ounces or approx. 1-1/4 cups
Ingredients
Ingredients
4 cups basil leaves
1/2 cup pine nuts, lightly toasted
3 cloves garlic, peeled and chopped
3 Tbs extra virgin olive oil
1/2 cup Parmesan cheese, freshly grated
salt & pepper to taste
Directions
It's super quick to make with a food processor, although you can grind it with a mortar and pestle and it makes for a wonderful chunky finish. Mince the leaves, nuts & garlic and then drizzle in the olive oil, mixing or processing all the while, until it is incorporated. Mix through the cheese and then season to taste.
**Notes: Instead of basil leaves, I used Italian Parsley. Also, instead of the pine nuts, I used Sunflower Seeds and used regular Parmesan Cheese that was already grated.
***If you want, you can even put this in the freezer for up to six (6) months.
Categories: Condiments, Sauces
Submitted by: nataliecyphers on May 1, 2010