It started several weeks ago. I was bitten by the dehydrating bug. And by bitten, I really mean I got it in my head that I wanted one. I put the call out to my Facebook friends in the form of a status update asking for opinions on brands. Sadly most of the replies consisted of "Yeah, I used to have one of those, but sold it at a yard sale." That didn't help. I knew we couldn't afford an Excalibur, so I set out to find a comparable one within my budget.
Fast forward to Christmas Day. My hubby surprised me with one. Not the exact one I wanted, but I figured it was good enough for my first attempt at dehydrating. I couldn't wait to dry something…anything. It didn't take long for me to figure out what I'd try first.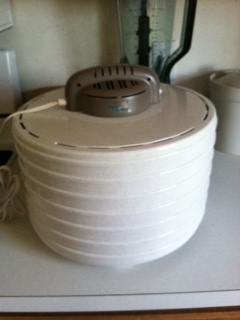 My family is fortunate enough to have a freezer full of beef courtesy of my wonderful father, who raises cattle and butchers two to be split between my parents, my sister and my family every year. I found two packs of flank steaks I thought would be perfect.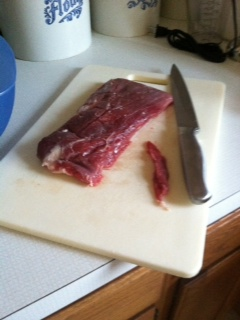 I'll admit, I was nervous as could be. I have never dehydrated anything in my life, nor did my mother when I was growing up. I purchased two great books for reference and that was the extent of my knowledge.
I mixed the jerky marinade that came with the dehydrator, which smelled heavenly. After slicing the steaks, I placed them in a Ziploc bag with the marinade and placed it in the fridge for a few hours. I was too excited to let it marinate any longer.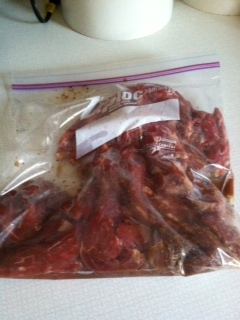 I placed the meat into the dehydrator and turned it on…really, it was that easy. I checked it periodically, afraid it would shrivel up and I'd be left with nothing! But lo and behold, after 10 hours I had beautiful beef jerky. I had fully expected my first try at this to be a huge disaster, so I wasn't prepared for such beautiful, tasty jerky.
So tasty in fact, I've had to hide it from the family. They can't get enough of it. My next attempt…fruit leathers. I hope those turn out just as good!


Do you have a recipe post or kitchen-related story to share on the Farm Bell blog?
See Farm Bell Blog Submissions for information, the latest blog contributor giveaway, and to submit a post.

Want to subscribe to the Farm Bell blog? Go here.
What can you enter to win this month? Click here.