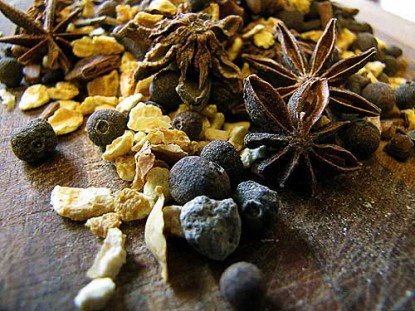 Difficulty: Easy
Servings: several spice bags
Prep Time:
5 minutes
Ingredients
6 whole cinnamon sticks
1 tablespoon whole cloves
1 tablespoon whole allspice
1 tablespoon dried orange peel
6 star anise pods
Directions
Break up cinnamon sticks then place in a baggie–smash with a hammer to break up the sticks some more. Combine cinnamon sticks with the rest of the ingredients. Store in a tightly-closed container. Recipe can be multiplied as desired.
To use, put two teaspoons of mulling spices in the center of a 4-inch square of cheesecloth and tie to make a bag or place in a spice ball. Place one bag in one quart apple juice, cranberry juice, or red wine. Simmer for 15 to 20 minutes. Serve warm.
Categories: Beverages, Gift Basket Goodies, Holiday, Ingredients & Mixes
Submitted by: suzanne-mcminn on March 25, 2011