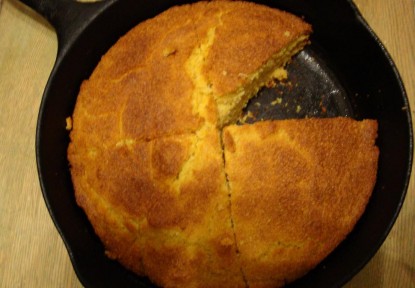 Difficulty: Easy
Servings: 8
Prep Time:
5 min
Cook Time:
20 min
Ingredients
2 cups cornmeal
2 eggs
1-1/4 cups buttermilk or thinned yogurt
1/2 teaspoon salt
1 teaspoon baking soda
2 tablespoons vegetable oil or butter
Directions
Add the oil or butter to an 8-inch or 10-inch iron skillet and set in preheated 450ºF oven while preparing rest of recipe.
Combine remaining ingredients in medium mixing bowl. Pour hot oil or melted butter from iron skillet into batter, stir quickly to blend then transfer to hot skillet for baking.
Bake 20 minutes at 450ºF.
Categories: Breads, Gluten-Free, Old-Fashioned, Other Breads, Special Diets, Vegetarian
Submitted by: walnutspinney on May 11, 2010