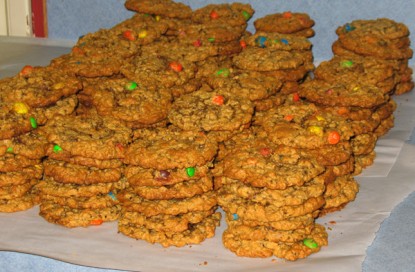 Difficulty: Easy
Servings: TONS! But depends on size of cookie. Plan for 13-15 dozen
Ingredients
12 eggs
2 lbs brown sugar
4 cups white sugar
1 tablespoon vanilla
1 tablespoon Karo syrup
8 teaspoons baking soda
1 pound butter
3 pounds peanut butter
18 cups old-fashioned oatmeal (note: One of those cylinder shaped containers of oatmeal is not enough, buy two!)
1 12 oz bag chocolate chips
1 12 oz bag plain M & M's
1 12 oz bag peanut M & M's
Directions
Beat the eggs together. Add butter and mix well.
Add brown sugar, white sugar, vanilla, Karo, Baking soda, and peanut butter. Mix well.
Stir in oatmeal, chocolate chips, and candy.
Drop onto ungreased cookie sheet by huge mounded tablespoon.
Bake in preheated 350 oven for 12-15 minutes.
Allow to cool SLIGHTLY before removing them from cookie sheet (enough that they don't fall apart when you remove them) but don't wait too long or the candy will stick.
Categories: Candy, Cookies & Bars, Crowd-Size, Other Special Diets
Submitted by: citygirlfarming on March 4, 2011