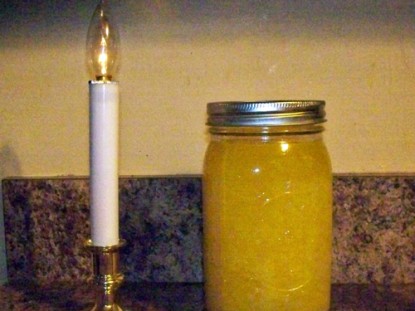 that
is what is called
ghee
. Because the milk solids are removed, ghee has a high smoke point, making it harder to burn than butter. It keeps extremely well (even unrefrigerated) as long as you keep it out of direct light. (A plus for anyone interested in emergency prepping!) Refrigerating, of course, prolongs it's life even more. Many people claim various health benefits from using ghee.
Difficulty: Easy
Cook Time:
Several Hours
Ingredients
unsalted butter
crock pot
strainer
cheesecloth
jar
Directions
Place the unsalted butter in the crock pot. Set the crock pot on low and let it go for several hours. Foam will appear on top of the melted butter. After a while, the foam disappears and then reappears, turning a light golden brown. At this point, the oil is separated from the solids and can be poured through a fine strainer or cheese cloth into a sterilized glass jar. As the ghee cools, it thickens but remains quite soft with a somewhat grainy texture.
From 4 pounds of unsalted butter, I made 2 quarts of ghee.
Categories: Crock Pot, Dairy, Gluten-Free, Ingredients & Mixes, Tips & Tricks
Submitted by: cjones on January 7, 2011