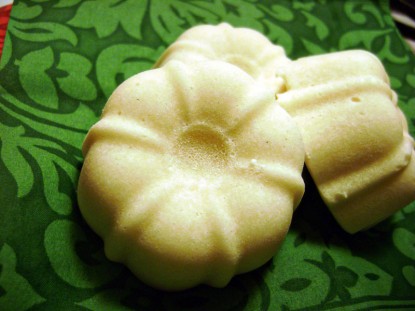 Difficulty: Easy
Servings: 5 pounds
Cook Time:
12 min
Ingredients
1 cup (2 sticks) Parkay margarine (she has never varied from this, but I'm sure you could!)
1 can evaporated milk
5 cups sugar
3 cups (1 1/2 – 12 ounce – bags) chips — chocolate, peanut butter, butterscotch, vanilla
1 (10 1/2 ounce) bag mini marshmallows
Directions
Combine margarine, milk, and sugar together.
Over medium heat, heat together until a rolling (cannot stir down) boil. Boil for 12 minutes.
While it's boiling, grease pans with butter or butter flavored spray. This recipe will fit into 2 (10×15) cookie sheets with sides. You can use whatever type of pans you'd like, depending on how thick of fudge you'd like.
Mix in chips and marshmallows and stir like crazy until they're all melted.
Pour into pans. Let sit until cooled and hardened, maybe an hour.
Categories: Candy, Gift Basket Goodies
Tags: Christmas Cookie
Submitted by: cindyp on December 7, 2010