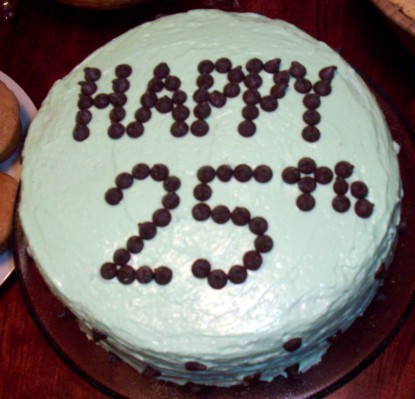 Difficulty: Intermediate
Servings: 8-16
Prep Time:
1.5 hours
Cook Time:
25-30 minutes
Ingredients
Chocolate Cake:
2 cups flour
2 cups sugar
½ teaspoon salt
1 teaspoon baking powder
2 teaspoons baking soda
2/3 cup cocoa
2/3 cup oil
2 eggs, lightly beaten
1 cup milk
1 teaspoon vanilla
1 cup strong coffee
Frosting between layers:
1 cup butter
1 cup granulated sugar
1 cup milk
5 tablespoons flour
Peppermint extract (to taste, strength varies)
For the outer frosting:
3/4 cup sugar
3 large egg whites
20 tablespoons butter, softened (2 ½ sticks)
Peppermint extract (to taste, strength varies)
Green food coloring (to desired color)
Directions
Chocolate Cake:
Butter and flour (or otherwise prepare) two round cake pans. Preheat oven to 325 degrees.
Mix together the dry ingredients in one bowl, and the wet ingredients (except coffee) in another. Mix the wet ingredients into the dry until just combined, then mix in the coffee.
Pour the batter into the prepared pans and bake until toothpick inserted into center comes out clean, about 25-30 minutes.
Allow the cakes to cool in the pans for ten minutes, then remove from pans and allow to cool completely before decorating.
Frosting between layers:
Place milk and flour into a small saucepan, and whisk constantly over medium-high heat until mixture thickens. Mix in the peppermint extract and allow to cool to room temperature (can place in the refrigerator to expedite cooling) .
While the milk-flour mixture cools, cream together the butter and sugar.
Once the milk-flour mixture is cool, beat into the creamed butter and sugar with an electric mixture until it is light and fluffy. Taste it–if you can feel the sugar crystals it needs to be whipped for a bit longer.
For the outer frosting:
This is a Swiss Meringue Buttercream, which Larissa did a very helpful blog post on. Check it out for more details on this process.
Whisk egg whites and sugar together in a metal bowl (I used the bowl of my stand mixer) over a pot of simmering water until the sugar dissolves.
Transfer mixture into the mixer and whip until reaches room temperature and approximately doubles in size. Add the peppermint extract, then the butter (in pieces) and whip! DON'T WORRY if it breaks, just KEEP WHIPPING and it will come back together. Promise!
Add in green food coloring to desired color, or not at all if you prefer. I went ahead and made it green and used chocolate chips to decorate so the just a glance at the cake suggested the flavor was like the ice cream.
Submitted by: fmcdaniel on October 9, 2011