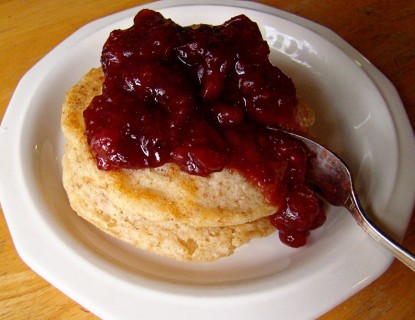 It's the time of year for cranberries! Buy a bunch now and put them in the freezer. Or, better yet, turn those glowing berries into jam and save your freezer space for something else.
This year I made Cranberry Banana Jam. No pectin! And it's great on toast and pancakes and ice cream.
If you're looking for a nice holiday homemade gift–this is it!
How to make Cranberry Banana Jam: Printable
5 cups cranberries [or a bit more, if your package is bigger]
1 1/2 cups water
3 ripe bananas, mashed
3 cups sugar
1/8 tsp cinnamon
Put cranberries and water in a pan, bring to boil and when the berries start popping, turn the heat down a bit and mash them some. Add the bananas, sugar and cinnamon. Bring to a boil. Simmer for 10 minutes.
Don't be surprised when this disappears fast.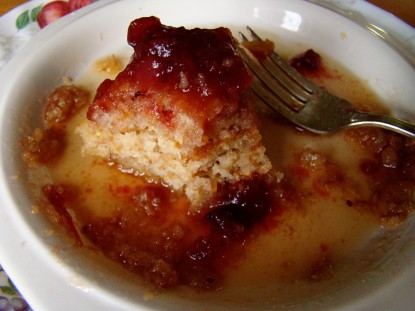 Happy Holidays!


blogs at Rurification.

Do you have a recipe post or kitchen-related story to share on the Farm Bell blog?
See Farm Bell Blog Submissions for information, the latest blog contributor giveaway, and to submit a post.

Want to subscribe to the Farm Bell blog? Go here.
What can you enter to win this month? Click here.