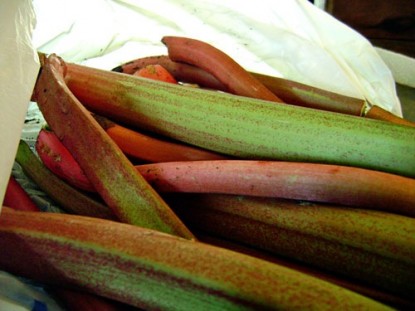 It's rhubarb time here in Michigan!  Last week, I received A LOT of rhubarb from a new friend I've met because of my new life of living simply.  I've never used rhubarb before, so I sent out a Recipe Request.  I received quite a few recipes and now I'm going to start working through them.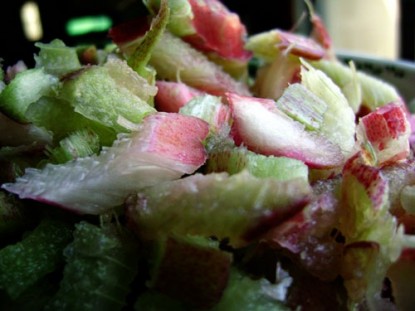 First up  is Rhubarb Bread from Laura, a fellow Michigander.
Ingredients:
2 1/2 cups flour
1 tsp salt
1 tsp baking soda
1 tsp baking powder
1 egg
2/3 cup oil
1 1/2 cup diced rhubarb (fresh or frozen (thaw first))
1 1/2 cup sugar
1 tsp vanilla
1 cup milk mixed with 1 Tbsp lemon juice
Topping:
1/2 cup sugar
1 tsp butter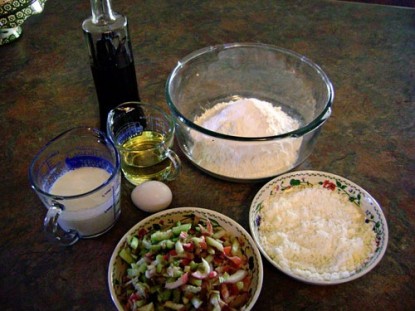 Mix together the topping ingredients.  I wasn't sure if I was supposed to melt this or just cut together.  I decided to just cut together and 1 tsp of butter wasn't enough, so I used 1 Tbsp instead – the more butter, the better, right?! Set aside.

Mix all the dry ingredients together, except the topping,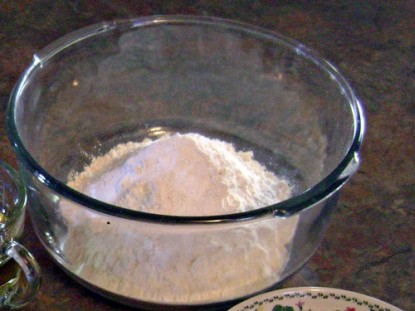 and then the liquids.  Mix together well.  You can use a mixer if you'd like, but Laura says she doesn't!

Fold in the diced rhubarb.
Grease and flour 2 loaf pans.  I, forever what reason, do not own traditional loaf pans.  I have LARGE loaf pans which I could have used for this 2 loaf recipe.  But I want to share with Mom, so I'm using 2 small casserole dishes that are part of a set I received for my birthday this year!  I love this set – dishwasher, oven, and microwave safe and every piece comes with it's own carrier, trivet and cover.  Ok, back to the recipe!
I don't usually flour, but I've never used this recipe before, so I did an experiment — 1 greased and floured, 1 greased.  Let's see how it turns out!
Pour the batter evenly into the loaf pans.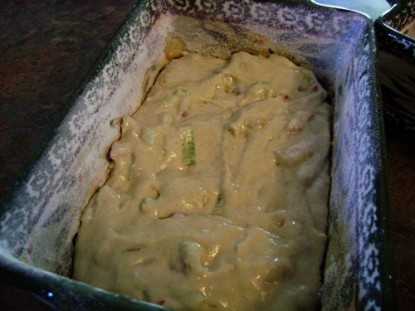 Sprinkle the topping mixture over.
Bake at 325 for 1 hour until done, I used the toothpick method.  Mine took exactly 1 hour.
Cool for 12 minutes before gently removing from pans.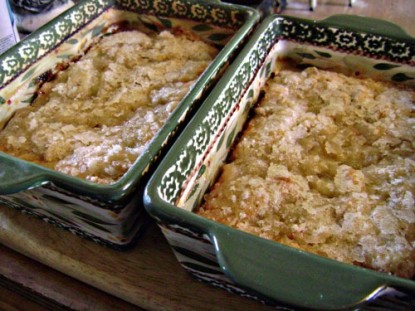 Finish cooling the loaves on a wire rack.  Well, I don't have a wire rack either, so they are cooling on the board.  The grease and flour experiment?  Both came out easily and look the same!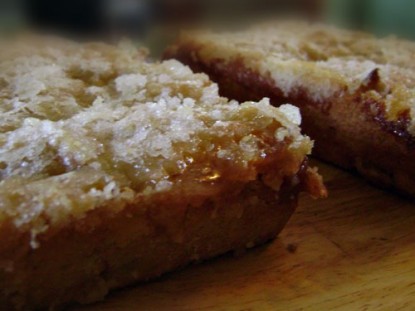 I clearly still used too wide of a dish.  I really need to invest in some loaf pans! Or I could have used just one pan, but Mom wants a loaf!  I don't and Mom won't care that it's wide and thin.  We like good food!
Mmmm…gooey, sugary, buttery heaven!
And of course, I couldn't wait until it was completely cooled, I cut a piece and enjoyed it with some homemade butter!  Yes! This is what I remember having as a kid, a sort of sweet bread, with that tang of rhubarb.
Thank you, Laura, for this fabulous recipe, it's definitely a 5-bell recipe!
Make sure you go to the Rhubarb Bread recipe so you have a nice print out or add it to your Recipe Box!
CindyP blogs at Chippewa Creek.

Interested in contributing to the Farm Bell blog? Read information here for Farm Bell blog submissions.