We have two different and new fruits this year, ground cherries and chichiquelites. Both of these fruits grow from seed to harvested fruit in one season! Both fruits are delicious in pies and jellies and I am also hoping they will make great wines, as well.
Chichiquelites.
I am amazed at the amount produced by both of these fruits. The ground cherries were the first to ripen. They are sweet and delicious right off the plant. We eat them in salads and cereals or just by the handful out of the bowl. Some of them are still slightly green after falling off but they will ripen off the plant while sitting out on the counter. It's important to wait until they are no longer green before eating them as the flavor changes a great deal when they ripen.
Ground cherries.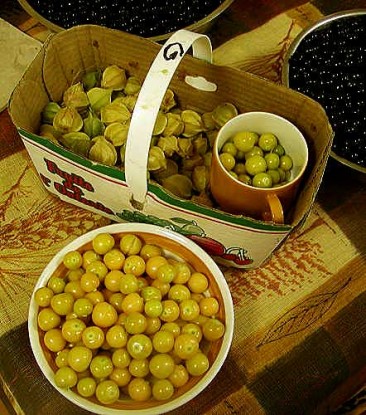 Chichiquelites are little berries also known as "Garden Huckleberries" (Solanum nigrum). They resemble the small wild blueberries but without the flavor of the fresh berry. Chichiquelites do have sweetness and flavor, but only when they are fully ripe. Just black and shiny is not ripe enough. You have to wait for them to get dull and a bit softer, then they are very good raw.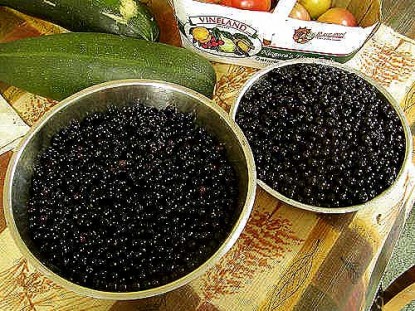 The best way to pick chichiquelites at the peak of ripeness is to pick by cluster, rather than berry. If the entire cluster is black, pick them. If there are a few green berries still in the cluster, leave them until they are all ripe. This is the rule of thumb that I have been using and they are very good. They are not bitter or bad-tasting when they are not ripe enough–there's just not much flavor there until they are cooked down.
These little gems really come into their own when they are cooked. When cooked down with sugar, they do resemble blueberries in both taste and appearance. They have the same dark purple color and will probably make excellent organic soap color, if we don't eat them all. They produce a lot for such a small space and short time.
I do have other berry bushes in my berry and wine garden, but they take years to produce. I needed something that would produce fruit immediately. I got that with the chichiquelites and ground cherries and I am very happy with them both. I have not yet made pie with the ground cherries but intend to do so soon.
Do remember to save seeds for planting next year. I saved a lot of chichiquelite seed for this purpose. We'll be planting many more next year than we did this year. I now have an envelope full of dried chichiquelite seed for next year! I will also be saving ground cherry seeds.
This being our first year to grow them, I had to test the chichiquelites out in a pastry. I used some bits of leftover pastry from a previous pie baking last week to make these two little turnovers. Hubby and son pronounced them "fantastic" and "delicious!" They were shocked and pleased that we grew these berries ourselves this year. I will be making some chichiquelite jelly soon, too.
We will definitely plant chichiquelites and ground cherries again next year! How about you?

You can also find Sheryl at Providence Acres.

Interested in contributing a guest post to the Farm Bell blog? Read information here for Farm Bell blog submissions.

Want to subscribe to the Farm Bell blog? Go here.