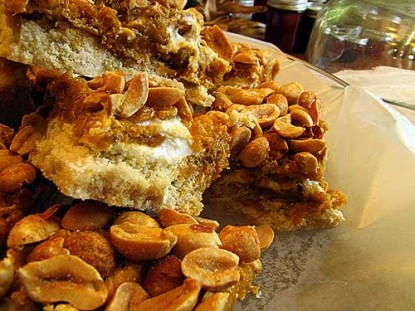 Difficulty: Easy
Servings: 15
Prep Time:
30 minutes
Cook Time:
20 minutes
Ingredients
BASE:
1 box yellow cake mix or homemade yellow cake mix
1/3 cup butter, melted
1 egg
3 cups mini marshmallows
TOPPING:
2/3 cup light corn syrup
1/4 cup butter
2 teaspoons vanilla
1 12-ounce package butterscotch or peanut butter morsels
2 cups Rice Krispies
2 cups salted peanuts
Directions
Combine cake mix, melted butter, and egg in a medium-size bowl. Mix well and press into a greased 9 x 13 pan. Bake at 350-degrees for 18 minutes. Remove from oven and top with mini marshmallows. Return to oven for a minute or two until marshmallows are puffy.
To prepare topping, in a medium-size saucepan, combine corn syrup, butter, vanilla, and butterscotch or peanut butter morsels. Heat on low until melted. Add Rice Krispies and stir to combine. Spread over marshmallows. Add the salted peanuts on top and press with the back of a spoon into the Rice Krispies mixture.
Chill then cut into bars.
*I think chocolate chips would be good with this recipe, too!
Categories: Cookies & Bars, Desserts
Submitted by: suzanne-mcminn on July 6, 2010