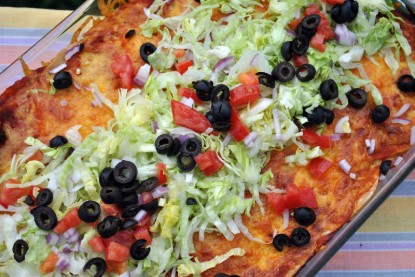 Difficulty: Easy
Servings: approx. 10
Prep Time:
30 min
Cook Time:
30-45 min
Ingredients
2 lbs ground beef, cooked and seasoned with 1 packet of taco seasoning (or homemade seasoning)
corn tortillas
4 cups enchilada sauce
5 cups cheese
Toppings:
lettuce
onion
tomato
olives
sour cream
salsa
hot sauce
Directions
Put a very thin layer of enchilada sauce down and cover it with corn tortillas. Sprinkle 1/3 of the meat over the tortillas followed by 1/4 of the cheese. Pour about 1/4 of the sauce over the top evenly. Repeat two more times. For the top, on top of the corn tortillas, spread the remaining enchilada sauce and sprinkle with the remaining cheese. Bake in a preheated 350 degree oven for 30-45 minutes or until golden and bubbling. Garnish with any or none of the optional toppings.
Categories: Beef, Budget, Casserole, Cheese, Crowd-Size, Dairy, Entertaining, Holiday, Kid-Friendly, Main Dish, Potluck
Tags: Mexican
Submitted by: charleycooke on September 11, 2012