I do a lot of sifting. Cake frostings. Powdered sugar icings for coffee cakes. Glazes for sweet rolls. Sometimes this means sifting as much as four cups of powdered sugar. My hand gets tired! I milk a cow then I have to come inside and squeeze that manual sifter thingy.
But buy icing from the store?! No way.
Then one day, I thought, I bet they make something for that!
Oh yes, they do!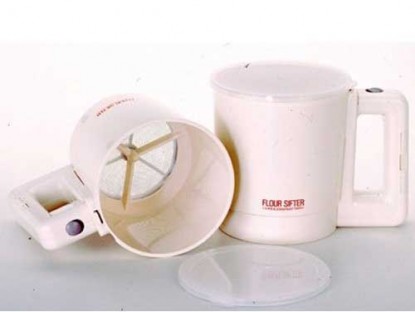 Because I'm slightly mechanically lost, I'm going to admit that when I first got it, it took me a few minutes to figure out how to use it. All you have to do is dump the measured powdered sugar inside the cup (which holds about 4 cups), push the "on" button, then push the handle in.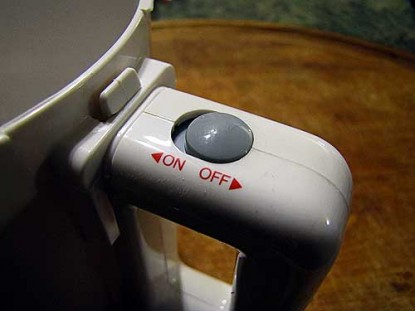 It was the pushing-the-handle-in part that I didn't grasp at first.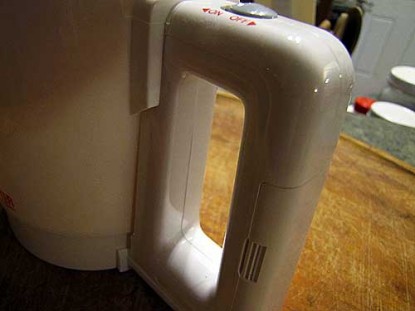 My excuse is that it didn't come with directions. (I thought I was doing good just to figure out that the battery compartment was in the handle. It uses 1 AA battery.) I finally figured out how it operates by accident. But once you do that, the powdered sugar sifts right through like magic and in no time. And it's so easy. And my fingers weren't tired afterward.
It's labelled as a flour sifter, but I've never used it for flour, only for powdered sugar.
If you've given up making homemade icings because you have physical problems with manual sifters, it takes too long, or you're just kinda lazy (me), this is for you! There are a number of these little sifters on the market. I tried this one because it was inexpensive. I can't say how long it will last for the price because I've only had it for about a month, but so far I LOVE IT and homemade icing is my friend again.
And I can eat more cake!
So you can eat more cake, too, I'm going to give away one of these battery-operated sifters!
For a chance to win: Submit a recipe then leave a comment on this post telling me the name of the recipe you submitted.
You may only enter once for this giveaway. Leave one comment on this post letting me know what you submitted for your chance to win.
One winner will be drawn by random comment number to receive a Norpro Battery Operated Sifter
. Eligible entry cut-off is midnight tonight Eastern (U.S.) time (Saturday, March 5). This post will be updated with the winner by 9 a.m. Eastern (U.S.) time Sunday (March 6). Return to this post to claim your prize if yours is the winning comment number.
Note: You must be registered to submit a recipe and post a comment. Sign up (it's free!) and join us!

Do you have a recipe post or kitchen-related story to share on the Farm Bell blog?
Read information here for Farm Bell blog submissions.

Want to subscribe to the Farm Bell blog? Go here.
UPDATE 03/06/11: The winning comment number, drawn by random.org, is #1, tsmith. Who says #1 never wins a giveaway?! (The odds on this giveaway were really good, LOL.) Email me at CITRgiveaways(at)yahoo.com with your full name and address for shipping!
THIS GIVEAWAY IS CLOSED TO ENTRY.