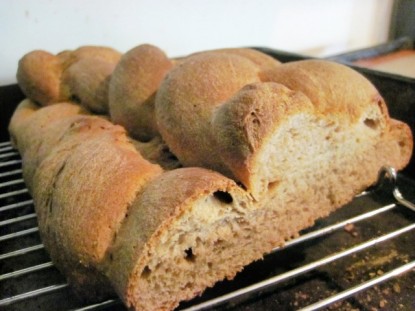 Difficulty: Intermediate
Servings: 1 loaf
Cook Time:
45 min
Ingredients
3 cups warm water
1 tablespoon yeast (1 packet)
1 teaspoon salt
1/4 cup sugar
2 eggs
7 cups wheat flour
Directions
In a large bowl, combine water, yeast, sugar, salt and eggs. Let sit five minutes.
Stir in first three cups of flour with a heavy spoon. Add the next cup of flour a little at a time as needed, stirring until dough becomes too stiff to continue stirring easily. Add a little more flour and begin kneading. The amount of flour is approximate–your mileage may vary! Continue adding flour and kneading until the dough is smooth and elastic.
Let dough rise in a greased, covered bowl until doubled. (Usually, about an hour.)
After the dough has risen the first time, lightly punch it down.
Separate the dough into thirds–using 2/3 of the dough, create three rolls of dough for braiding and set the remaining 1/3 aside.
Braid the three rolls.
Separate the remaining 1/3 into thirds. Braid and place on top of the larger braid.
Set in warm, moist place. Let rise about 45 minutes.
Brush with egg-whites. I skipped this step. The boys like crust.
Bake for 45 minutes at 350 degrees.
Categories: Breads, Yeast Breads
Submitted by: laree on January 21, 2011