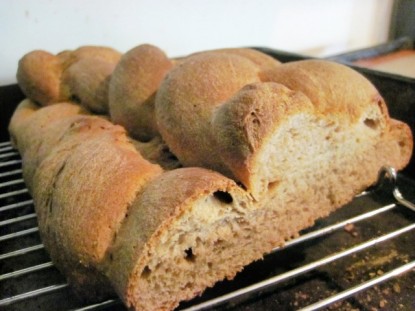 This bread was so warm and good–it was gone before dinner was served.
I found the original recipe at Bakingdom. Sugarbear's instructions are always prettier than mine. I have blog envy. Still, I would bet her camera is much nicer than my little underwater Canon. And it looks like she bakes in the morning, instead of late at night or the afternoon or whenever the kids are asleep. I bet she has a window in her kitchen, too. And she is thinner and prettier than I am. Blog envy.
I didn't really follow the recipe itself, just the method of making the braided loaf. Instead, I used Suzanne's 2-loaf Grandmother Bread recipe, with two eggs added for "floof"–it's a technical term–and wheat flour instead of all-purpose.
How to make Larissa's Wheat Challah Bread:
3 cups warm water
1 tablespoon yeast (1 packet)
1 teaspoon salt
1/4 cup sugar
2 eggs
7 cups wheat flour
In a large bowl, combine water, yeast, sugar, salt and eggs. Let sit five minutes.
Stir in first three cups of flour with a heavy spoon. Add the next cup of flour a little at a time as needed, stirring until dough becomes too stiff to continue stirring easily. Add a little more flour and begin kneading. The amount of flour is approximate–your mileage may vary! Continue adding flour and kneading until the dough is smooth and elastic.
Let dough rise in a greased, covered bowl until doubled. (Usually, about an hour.)
After the dough has risen the first time, lightly punch it down.
Separate the dough into thirds–using 2/3 of the dough, create three rolls of dough for braiding and set the remaining 1/3 aside.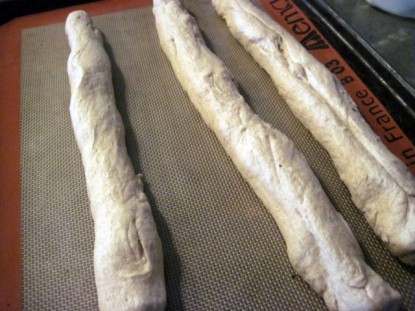 Braid the three rolls.
Separate the remaining 1/3 into thirds. Braid and place on top of the larger braid.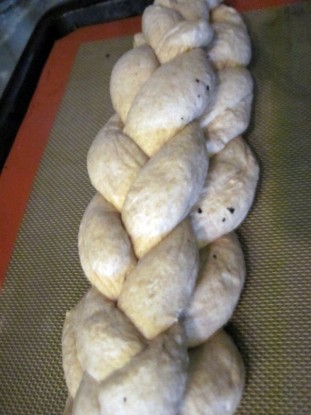 Set in warm, moist place. Let rise about 45 minutes.
Brush with egg-whites. I skipped this step. The boys like crust.
Bake for 45 minutes at 350 degrees.



Get the handy print page and save this to your recipe box here:
Larissa's Wheat Challah Bread.

Larissa blogs at The Henway.


Do you have a recipe post or kitchen-related story to share on the Farm Bell blog?
Read information here for Farm Bell blog submissions.

Want to subscribe to the Farm Bell blog? Go here.