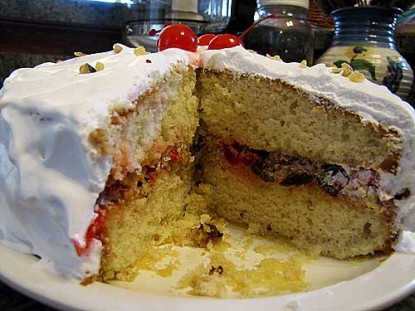 Difficulty: Easy
Servings: 12
Prep Time:
1 hour, including preparing icing
Cook Time:
20-25 minutes
Ingredients
FOR CAKE:
1 recipe homemade or store-bought white cake mix
1 1/4 cups water
1/2 cup shortening or lard
4 egg whites
1 teaspoon vanilla
FOR LADY BALTIMORE ICING:
Seven-Minute Icing
1/2 cup raisins
1/2 cup chopped nuts
1/2 cup chopped maraschino cherries
Directions
Find the homemade white cake mix recipe here.
To make this cake from scratch, use:
2 1/2 cups all-purpose flour OR 2 3/4 cups cake flour
2 cups sugar
1 teaspoon baking powder
1/2 teaspoon baking soda
1 1/3 cups milk or buttermilk
1/2 cup shortening or lard
4 egg whites
1 teaspoon
Whether making from scratch or a mix, combine all the cake ingredients. Beat to mix on low, then beat on high for two minutes. Pour into two greased, floured 9-inch cake pans. Bake at 350-degrees for 20-25 minutes.
To make as Lady Baltimore Cake, make one recipe of Seven-Minute Icing. Find the Seven-Minute Icing recipe here and prepare while the cake rounds are cooling. Combine 1/4 of the icing with the raisins, nuts, and cherries. Spread between the two cake layers. Ice the cake with the remaining icing.
Categories: Cakes, Desserts, Old-Fashioned, Special Occasions
Submitted by: suzanne-mcminn on April 5, 2011