Recently, I found an instant refried bean mix by Kenya Cook. Intrigued, I decided to test it!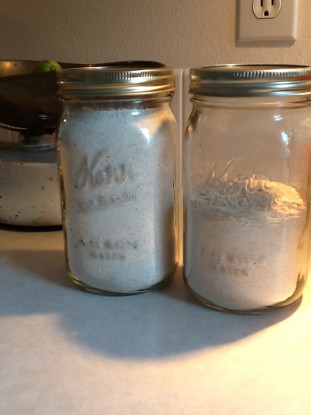 This is the original recipe from the above link that I tested "as is" and made a few improvements and comments noted at the end. This recipe is super cheap and will keep as a pantry staple for a quick mix.
Ingredients:
3 cups dried navy or pinto beans
3 teaspoons dried cumin
3 teaspoons chili powder
1 teaspoon salt
1 teaspoon pepper
3 tablespoons dried minced onion
In a coffee grinder, food mill, or blender, grind beans until a flour consistency. Combine all ingredients and store jar or Ziploc bag.
To Use:
3/4 cup mix
2 1/2 cups boiling water
Mix with a wire whisk until combined. Bring to boil, cover, reduce heat to low and simmer for 4-5 minutes or until thickened. Mixture will thicken more as it cools. Refried beans will remain thickened even when reheating. You can add salsa or chopped chili peppers for added zip.
Test Recipe Procedure:
Step 1. Measure 3 cups of clean dry pinto beans into your food grinder processing as fine as possible. I used a Nutrimill Food Grinder and processed at just past medium grind. This took about 5 minutes. Mine came out flour consistency.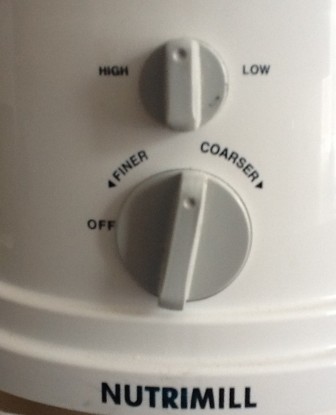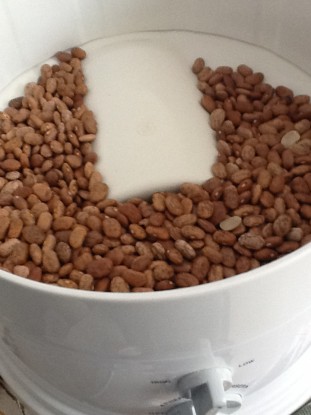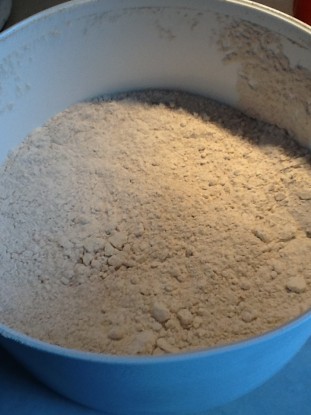 Step 2. Mix with the rest of listed ingredients and store into jars with label directions. This recipe yielded 1 1/2 quarts of mix.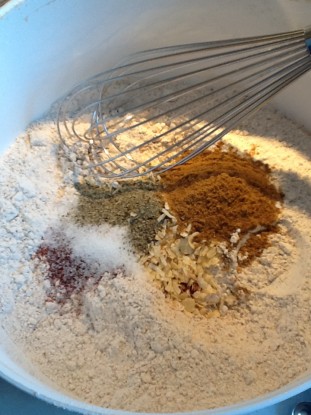 Step 3. Bring water to a boil then remove from heat as this stuff will foam and spatter at first. With your wire whisk, stir in the bean mixture a little at a time. Lower heat to medium and return to heat stirring while simmering for 5 minutes.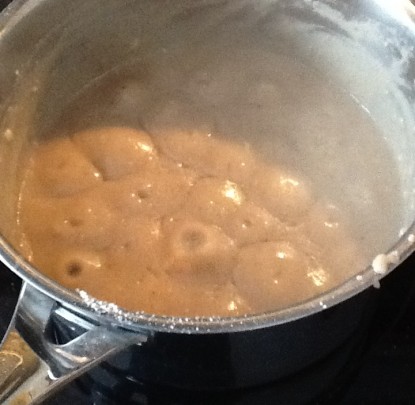 Step 4. Pour into serving bowl.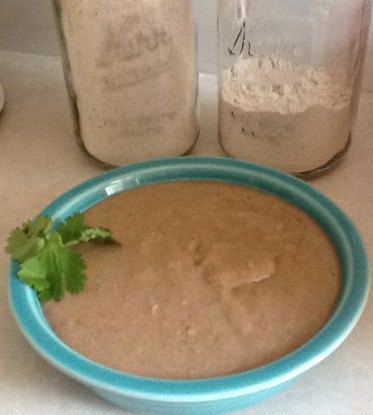 First impression – This becomes gelatinous pretty quick.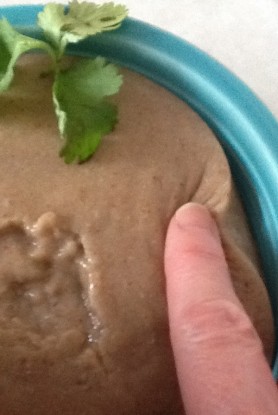 Not a trait I've seen in canned versions though can be tolerated.
Taste test – Kind of bland. To the finished product I added:
1 teaspoon garlic powder
1/2 teaspoon salt
This produced a better flavor!
Conclusion – The benefit of this recipe is that it's a very inexpensive protein to keep in the pantry as a quick mix, making it a keeper. The negative, however, is the texture. If anyone has a suggestion to improve the end result, please share. Perhaps mixing in a little cream or cheese before serving would improve the final texture? Let me know if you try it!
Do you have a recipe post or kitchen-related story to share on the Farm Bell blog?

See

Farm Bell Blog Submissions

for information and to submit a post.

Want to subscribe to the Farm Bell blog?

Go here

.