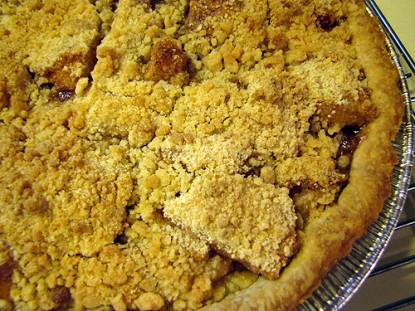 Difficulty: Easy
Servings: 8
Prep Time:
20 minutes
Cook Time:
50-60 minutes
Ingredients
pastry for 1 single-crust pie
3-4 medium-large apples, cored, peeled, sliced
1 tablespoon lemon juice
1/3 cup sugar
1/4 cup brown sugar
3 tablespoons flour
1/2 teaspoon cinnamon
1/2 teaspoon nutmeg
Topping:
1/2 cup flour
1/4 cup sugar
1/4 cup brown sugar
1/3 cup butter
Directions
Prepare the pastry and the apples. Toss apples with the lemon juice then stir in the sugars, flour, and spices. Add filling to pastry-lined pie pan.
For the topping, place the flour and sugars in a bowl. Cut in the butter with a pastry cutter or fork. Sprinkle mixture on top of the pie filling.
Bake at 375-degrees for 50-60 minutes or until browned. Important: I almost always bake pies on the bottom shelf! This eliminates two problems. One, you don't have to protect the edges of the crust from over-browning, and two, it guarantees your crust is baked through on the bottom.
Submitted by: suzanne-mcminn on February 26, 2013