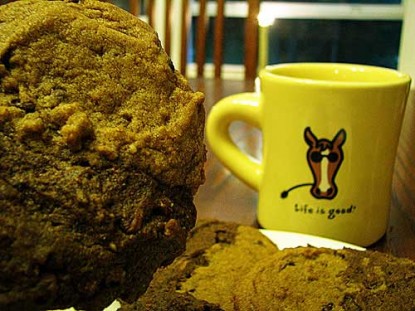 Difficulty: Easy
Servings: 2 1/2 dozen
Prep Time:
15 minutes
Cook Time:
8-10 minutes
Ingredients
2 tablespoons instant coffee crystals
3 tablespoons half-and-half, light cream, or milk
1 cup butter, softened
2/3 cup sugar
2/3 cup brown sugar (packed)
1 teaspoon baking soda
1/4 teaspoon salt
1 egg
1 teaspoon vanilla
2 1/4 cups all-purpose flour
1/4 cup unsweetened cocoa powder
1/2 cup chopped nuts
1/2 cup mini semi-sweet chocolate chips
Directions
In a small bowl, dissolve the coffee crystals in one tablespoon of the half-and-half; set aside. In a large mixing bowl, beat butter on medium speed for 30 seconds. Add sugar, brown sugar, baking soda, and salt. Beat well; add coffee mixture, egg, and vanilla and beat again. Stir in flour with a spoon.
Divide dough in half. Into one portion, stir in remaining two tablespoons of half-and-half (or light cream or milk), the cocoa powder, and the nuts. Into the other portion, stir in the mini chocolate chips. For each cookie, drop one piece from each dough portion onto a (very lightly greased) cookie sheet then push the pairs together.
Bake in a 375-degree oven for 8-10 minutes. Cool on a wire rack. (Let sit for a couple of minutes before removing from the cookie sheet.)
Categories: Cookies & Bars, Desserts
Submitted by: suzanne-mcminn on December 12, 2010