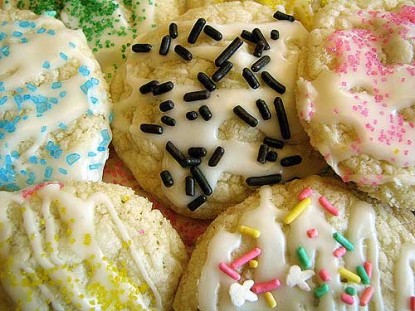 Difficulty: Easy
Servings: 3-4 dozen
Prep Time:
30 minutes
Cook Time:
10 minutes
Ingredients
1 cup butter or margarine, softened
1 1/2 cups powdered sugar
2 teaspoons vanilla
2 cups all-purpose flour
semi-sweet chocolate chips (about 1 cup)
Powdered Sugar Icing
Directions
In a large bowl, beat butter for 30 seconds. Add powdered sugar and vanilla. Beat well. Stir in the flour with a spoon. The dough will seem a little dry. Knead it together with your hands, as with piecrust dough.
Take the dough off in balls, a generous teaspoonful at a time. Make a depression in the dough ball. Place your little secret (three chocolate chips) in the center. Fold the dough around the chips to hide the surprise.
Reshape into a ball. Repeat with remaining dough. Place balls about two inches apart on a lightly greased baking sheet. Bake in a preheated 350-degree oven for 10 minutes. Let rest two minutes before removing from the baking sheet. Place on a wire rack to finish cooling.
Powdered Sugar Icing:
2 cups sifted powdered sugar
1/2 teaspoon vanilla
3 tablespoons milk
(additional milk as needed)
In a small bowl, combine powdered sugar, vanilla, and 3 tablespoons of milk. Stir together. Add more milk if necessary to bring the mixture to drizzling consistency. Drizzle over the tops of the cookies. Scatter with candy sprinkles before icing sets.
Categories: Cookies & Bars, Desserts
Submitted by: suzanne-mcminn on December 12, 2010