There are many reasons that I cook. First of all, I enjoy cooking. Also, it is cost efficient compared to eating out and I know what is in the food we are eating. When I do eat out, my inner smarty pants takes over and examines the food that we have ordered. If we like it, then I want to know how I can do this at home. The server is politely questioned until I feel that the sufficient information has been obtained.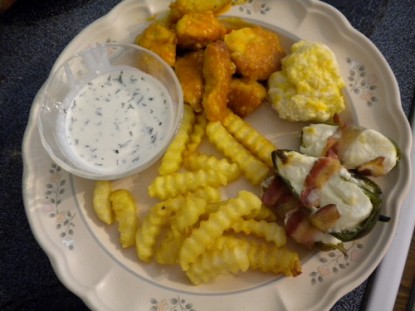 A few years back, we ordered hot wings from a local take out place in town. The wings were tasty, but my inner smarty pants knew I could do this for less than it costs for take out.
An internet search revealed various recipes to try. We tweaked until we had the sauce that we both liked. We liked the wings, but I knew that there had to be a better way–wings can be expensive and there is little meat. So I decided to purchase boneless, skinless breasts and cut the meat into bite sized pieces. The pieces of chicken were baked instead of fried–the sauce sticks to the chicken better this way.
The pieces were dubbed Hot Bites and are now prepared regularly at our house. This meal is served with homemade jalapeno poppers, cheese bread, and fries.
How to make Hot Bites: Printable
Cut about 4 chicken breast halves into bite sized pieces. Flour the chicken pieces using a cup of plain flour, 1 teaspoon salt, 1 teaspoon pepper, 1/4 teaspoon garlic powder. I use a plastic container that I keep in the freezer with the seasoned flour in it to prevent waste.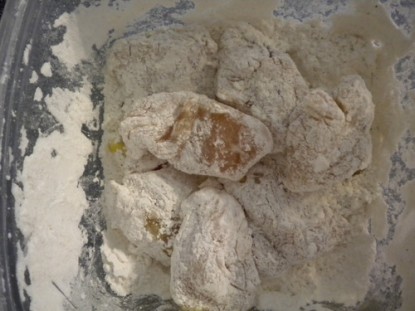 Place the floured chicken pieces in a baking dish that has 2 tablespoons of melted butter or margarine and 2 tablespoons oil (I use olive oil).
Bake these nuggets for one hour at 400 degrees, turning half way through.
While the chicken is baking, melt 1 stick of butter or margarine in a sauce pan then remove from heat. Add 1 teaspoon vinegar, 1/2 teaspoon paprika, 1/4 teaspoon garlic powder, and hot sauce to taste (I use about half of a small bottle).
Keep in mind this particular mixture suits our taste buds, adjust the seasonings to your tastes. If you like it hotter add more hot sauce or cayenne pepper to the sauce.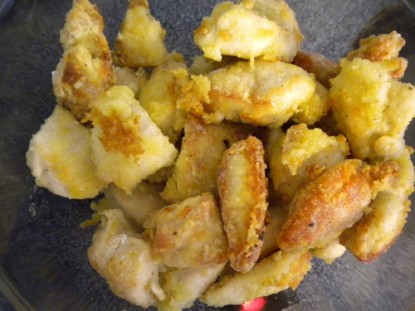 Pour the sauce into a bowl and when the chicken comes out of the oven, place the hot chicken in the sauce mixture.
Stir gently until all of the chicken has been coated with the sauce.


My inner smarty pants also knows that my dressings are better and cheaper than store bought. Why buy it, if you can make it? My favorite to dip the Hot Bites in is a Buttermilk Dressing that I have used for years.
How to make Buttermilk Dressing: Printable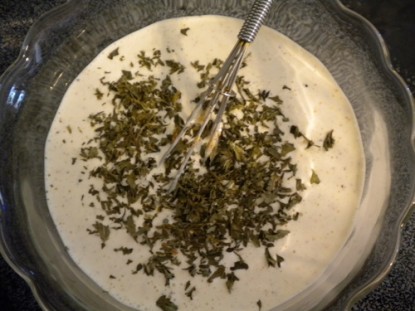 Whisk a cup of mayonnaise, low fat is fine if that is what you prefer, into a cup of buttermilk.
Add 2 teaspoons of dried parsley flakes, 1/2 teaspoon each of onion powder and garlic powder, 1 teaspoon of seasoned salt, and about 1/2 teaspoon black pepper. Adjust this to your tastes, this is what we like.


How to make Homemade Jalapeno Poppers: Printable
Simply cut fresh jalapeno's in half and scrape the membrane out. If you like it hot, leave it there. Wear gloves when you do this and do not rub your eyes!!! If you are sensitive to the jalapeno, you may want to wear glasses, the juice of the jalapeno when scraped can fly into your eyes.
Fill the cleaned out peppers with softened cream cheese. Neufchatel cheese may be used if you want to cut some fat out of this dish.
Take a piece of bacon and slice in half cross wise and then lengthwise. Wrap the cheese stuffed peppers with bacon–one piece of bacon will wrap 4 jalapenos halves.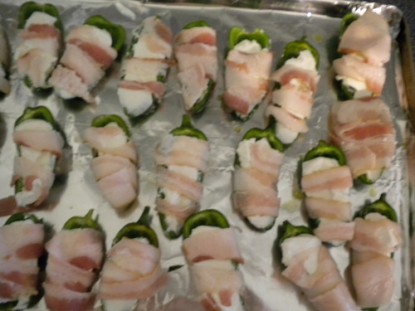 Bake on a foil lined baking sheet at 400 degrees until bacon is crisp, about 15 minutes. Serve warm.