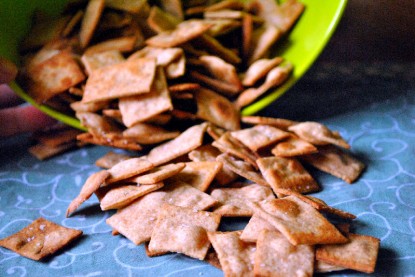 I don't know if it is just me, or if my tastes have changed, but the Wheat Thins that I have bought in the last year or so have tasted strange to me. I don't know how to explain it, and like I said it could just be me, but I was really excited to try these and see how they turned out.
They are so good! Very wheat-y, you can decide how salty you want them and it makes a ton. All of those make for a winner in my book. These are really simple, although I do think they sound a lot harder to make than they actually are.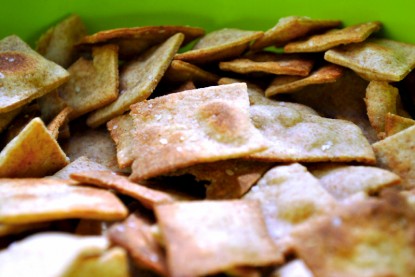 How to make Homemade Wheat Thins:
1 1/4 cups wheat flour
1 1/2 Tablespoon sugar
1/2 teaspoon salt, plus more for sprinkling
1/4 teaspoon paprika
4 Tablespoons butter
1/4 cup water
1/4 teaspoon vanilla

Preheat oven to 400 degrees. Mix wheat, sugar, salt and paprika in a bowl and mix. Cut the butter up in cubes and cut it into the flour. Add the water and vanilla and mix until a smooth ball forms. Lightly flour your cutting board and roll out 1/4 of the dough about 1/16 inch thick. Keep the remaining dough under a towel so it doesn't dry out. Cut into cracker sized pieces and place on a parchment lined baking sheet (I sprayed mine with non stick spray and it was just fine). Place crackers onto cookie sheets and sprinkle with more salt if desired. Bake about 5-7 minutes, keeping a close eye on them. They tend to brown up quickly, so watch those little babies. I let mine cool on a cooling rack and then put them in a resealable bag.


Now you can make these whenever you want and flavor them however you want. I'm thinking that some sun dried tomato powder and Parmesan pulsed in the blender would make a really good sprinkling for these. I'll have to try them and let you know how they are!


Get the handy print page and save this to your recipe box here:
Homemade Wheat Thins.
Charley blogs at Cooke's Frontier.

Do you have a recipe post or kitchen-related story to share on the Farm Bell blog? See Farm Bell Blog Submissions for information and to submit a post.

Want to subscribe to the Farm Bell blog? Go here.