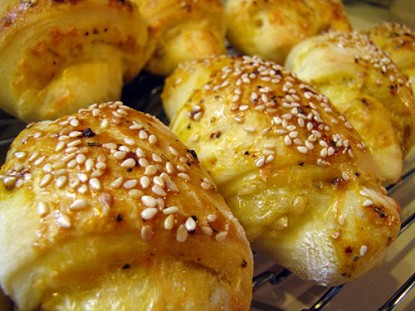 Difficulty: Easy
Servings: 2 dozen
Prep Time:
2 hours, including rising time
Cook Time:
15 minutes
Ingredients
1 1/2 cups milk
1/3 cup butter
1 egg
1 teaspoon yeast
2 tablespoons sugar
1/2 teaspoon salt
4 to 4 1/2 cups flour*
Filling and Topping:
4 egg yolks
1/4 cup olive oil
1 tablespoon herbs
4 ounces Swiss cheese, grated
sesame seeds
Directions
*The flour measure is approximate–you may need slightly more or less. Use enough flour to make a good, pliable dough.
Heat the milk and butter in a small saucepan until the butter melts. Cool–you want the milk mixture to be fingertip warm (110 to 115 degrees) before combining with yeast (or you will kill the yeast). Transfer milk mixture to a large mixing bowl and stir in the egg. Add the yeast and sugar; let sit five minutes. Add salt then stir in first two cups of flour with a heavy spoon. Add the remaining flour a little at a time as needed, stirring and adding flour until dough becomes too stiff to continue stirring easily. Add a little more flour and begin kneading. The amount of flour is approximate–your mileage may vary! Continue adding flour and kneading until the dough is smooth and elastic. Let dough rise in a greased, covered bowl until doubled. (Usually, about an hour.) Uncover bowl; sprinkle in a little more flour and knead again before dividing in half.
On a floured surface, roll out half the dough into a pizza-like circle. Spread with about a third of the filling/topping mixture. Sprinkle on half the Swiss cheese. Using a pizza wheel, cut into triangles, like slicing pizza. Make into eight or twelve slices, depending on size of rolls desired. (Smaller rolls are great for dinner. Larger rolls make great sandwiches!) Roll up and curve slightly to make crescents when placing on a greased baking sheet. Repeat with remaining half of dough. Use the reserved third of the filling/topping mixture to brush the tops of the crescents. Sprinkle with sesame seeds. Let rise. Bake at 350-degrees for about 15 minutes, or until browned. Watch carefully–baking time will depend on the size of your rolls.
Categories: Breads, Rolls, Yeast Breads
Submitted by: suzanne-mcminn on August 13, 2013