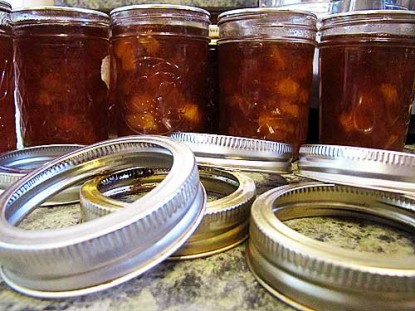 Difficulty: Easy
Servings: 8 half-pints
Prep Time:
about an hour or so
Cook Time:
10 minutes BWB
Ingredients
3 quarts chopped, peeled, cored apples (about 6 pounds)
6 cups sugar
1 teaspoon cinnamon
1/2 teaspoon allspice
1/2 teaspoon nutmeg
1/4 teaspoon cloves
1 cup maple syrup
Directions
Combine all ingredients in a large pot. Bring slowly to a boil. Cook rapidly to gelling point. As mixture thickens, stir frequently to prevent sticking. Remove from heat. Ladle hot jam in hot jars, leaving 1/4-inch headspace. BWB 10 minutes.
Note: If you want to add 1 package powdered pectin, combine the apples and the pectin in the pot first; bring to a boil. Then add the remaining ingredients and continue with the recipe.
Categories: Boiling Water Bath, BWB Jams, Jellies, Butters & Preserves, Canning, Preserving
Submitted by: suzanne-mcminn on June 18, 2011