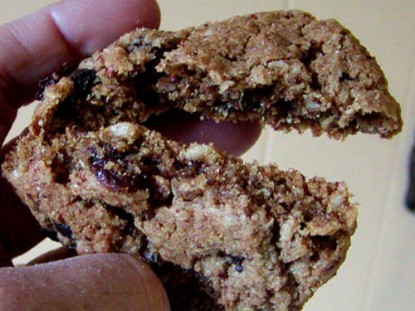 Difficulty: Easy
Servings: Several dozen
Cook Time:
11-13 min
Ingredients
1 lb butter, melted (I do this in a glass 2 cup measure in the microwave, 2 minutes)
2 cups white sugar (you can lower this for less sweet cookies)
2 cups Demerara or brown sugar, packed into measure
2 cups rolled oats
1 1/2 cups light weight commercial cereal (Spec K, flakes, rice)
2 cups combined ground whole grains (quinoa, flax, ground nuts, etc.)
5 eggs (you can add an extra egg for even more protein content)
3 teaspoons vanilla
2 teaspoons baking soda
2 teaspoons baking powder
5 cups flour
2 1/2 cups your choice combined raisins, nuts, shelled sunflower seeds, squash seeds, chips (chocolate, butterscotch, peanut butter)
Directions
Preheat oven to 350F.
Mix together the butter, sugars, rolled oats, whole grains, cereal and eggs in an extremely large bowl.
Add vanilla, baking soda, baking powder, flour and the raisins/nuts/seeds/chips. Mix together. You will need to drop the spoon and use your hands at some point.
Roll into balls and bake on greased cookie sheet for 11-13 minutes.
Categories: Cookies & Bars
Tags: healthy
Submitted by: runningtrails on September 28, 2010