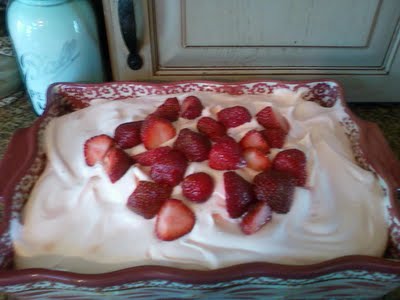 Difficulty: Easy
Servings: 12-15
Prep Time:
10 min
Cook Time:
45 min
Ingredients
Cake:
1 box yellow cake mix
3 oz. strawberry jello
3/4 cup oil
4 fresh eggs
2 Tbsp. flour
1/3 cup sugar
2 cups strawberries (lightly crushed)
2 tsp. vanilla
Frosting:
1 box vanilla pudding
1 cup milk
3/4 cup powder sugar
1 container cool whip
3 drops red food coloring
Directions
Cake:
Put all ingredients in large mixing bowl and beat well. Pour in well greased 9×13 cake pan. Bake for 45 minutes.
Frosting:
Mix pudding, powder sugar and milk. Drop in three drops of food coloring. Fold in cool whip and spread on cooled cake. Garnish with additional strawberries and put in fridge.
Categories: Cakes, Desserts, Frostings & Icings
Tags: Summer
Submitted by: grannytrace on July 15, 2011