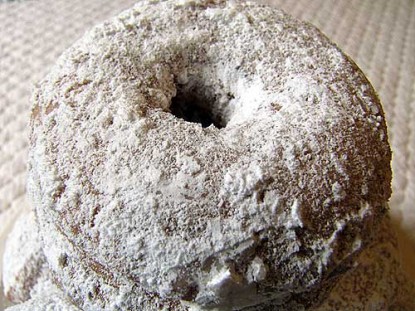 Difficulty: Easy
Servings: 1 dozen
Prep Time:
30 minutes
Cook Time:
2 minutes
Ingredients
2 eggs
1 cup sugar
1 tablespoon butter, melted
3 teaspoons baking powder
1 teaspoon salt
1 teaspoon nutmeg
4 cups all-purpose flour
1 cup milk
Directions
In a medium-size bowl, beat the eggs till very light. Whisk in sugar then the melted butter. In another bowl, combine the baking powder, salt, nutmeg, and one cup of the flour. Stir flour mixture into the egg-sugar mixture, alternating with the milk. Using a large spoon, stir in the remaining flour to make a dough you can handle.
Turn the dough onto a floured surface and cut out doughnuts. Fry in hot oil, about one minute per side (till golden). I set my burner close to High. (About 375-degrees.) Drain doughnuts on paper towels. Sift powdered sugar over them or shake the doughnuts one at a time in a bag of powdered sugar (easiest method!).
Makes 12 doughnuts.
You can make all sorts of variations. If you want chocolate doughnuts, add a couple of squares of melted unsweetened chocolate along with the eggs and sugar. Add some grated lemon or orange peel. Add some chopped fruit. Etc! You could also glaze the doughnuts rather than using powdered sugar. It's all good.
Categories: Breads, Breakfast, Kid-Friendly, Old-Fashioned
Submitted by: suzanne-mcminn on August 4, 2010