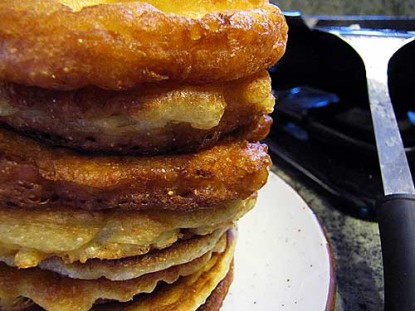 Difficulty: Easy
Servings: 9-12 fritters
Prep Time:
5 minutes
Cook Time:
4 minutes
Ingredients
1 cup corn, drained
1 cup milk
1 1/2 cups all-purpose flour
1/4 cup cornmeal
2 teaspoons baking powder
1/2 teaspoon salt
1 egg
oil for frying
Directions
Combine all ingredients in a bowl and stir just until combined. Heat oil in a skillet (about 375, medium high) and pour batter out in rounds. The mixture should be about pancake consistency. If it's too thick, add a little more milk; if it's too thin, add a little flour. Fry about two minutes per side till golden; drain and keep warm till serving. (Be sure to cook them all the way through, so don't get in too much of a hurry.) You can also cook them on an electric griddle.
You can make all kinds of veggie fritters, by the way. Chop and drain peppers, onions, mushrooms, whatever you have on hand. You can also do fruit fritters–apple, peach, pear, etc. Use one cup chopped, drained fruit to replace the one cup corn and add a couple tablespoons of sugar to the mixture. After frying, dust with powdered sugar or serve with syrup for a breakfast or dessert treat. You can pour syrup over the classic corn fritters, too, by the way, and that is ridiculously awesome. I like to eat them as a snack or as a meal by itself. You can truly make a fritter out of anything, including adding cooked chopped or ground meat.
Categories: Breakfast, Griddles, Kid-Friendly, Other Side Dishes, Side Dishes, Vegetable Breads
Submitted by: suzanne-mcminn on October 31, 2011