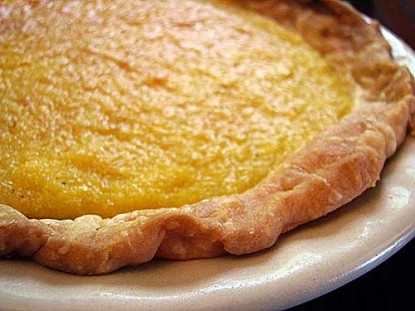 Difficulty: Easy
Servings: 8 - 12
Prep Time:
30 minutes
Cook Time:
40 minutes
Ingredients
2 unbaked pie shells
1 cup butter or margarine
2 cups granulated sugar
3 eggs
1 teaspoon vanilla
8 Tablespoons cornmeal (stone-ground preferred)
3 Tablespoons all-purpose flour
1 cup milk
Nuts, chopped (optional – pecans would probably taste best)
Directions
Mix all ingredients (except nuts) in a heavy saucepan. Bring mixture to a slow boil, stirring constantly. Boil for 3 minutes. Add nuts if desired. Pour into pie shells and bake at 375 degrees for 35 – 40 minutes until inserted toothpick comes out clean.
Categories: Beans, Grains & Rice, Budget, Old-Fashioned, Pies, Potluck, Vegetarian
Tags: Appalachian, Country-Style, Southern
Submitted by: cousinsheryl on May 27, 2010