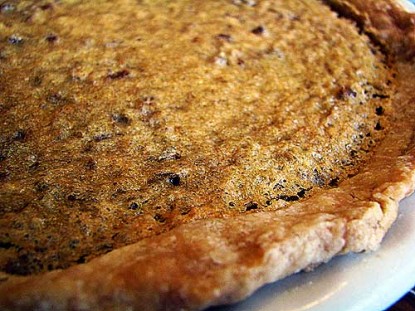 Difficulty: Easy
Servings: 8 - 12
Prep Time:
10 minutes (with beans cooked)
Cook Time:
45 - 50 minutes
Ingredients
1 cup mashed, cooked pinto beans (cooked without seasoning)
1 cup granulated sugar
3 eggs, beaten
1 teaspoon nutmeg
2 Tablespoons melted butter
1 unbaked pie shell
Directions
Mash beans well or process in food processor. Mix nutmeg with sugar and add to beans alternately with one egg at a time, process between additions until thoroughly mixed. Add butter, mix, and then pour into an unbaked pie shell. Bake at 350 degrees for 45 – 50 minutes until an inserted toothpick comes out clean.
Categories: Beans, Grains & Rice, Budget, Old-Fashioned, Pies, Potluck, Vegetarian
Tags: Appalachian, Country-Style, Southern
Submitted by: cousinsheryl on May 27, 2010