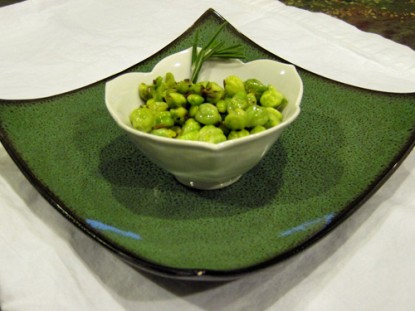 Aren't these the prettiest little things? Green garbanzo beans!
Usually I have to grow these to get them green, but recently I found them at the store. YAY! Indeed, I found these at my local Walmart, which makes me think I am a little behind the times. If Walmart carries them, they must already be old hat in the foodie world, right?
*sniff* But they are so tasty…
Ha! Fooled Ya! As if I care what foods are passé and which are still trendy. Please see Exhibit A: my wide load.
Not that these will make you tubby. (In moderation, of course.) These are healthy, full of green-y goodness, and excellent as a meat substitute. Unless you are trying to take a good, non-blurry, picture of yourself pouring the oil into the pan. At which point you use too much oil.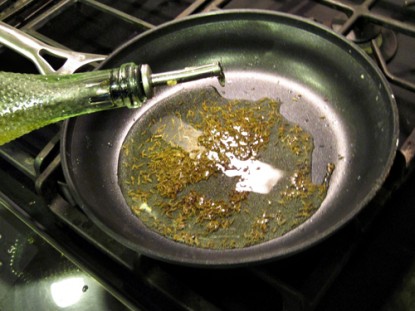 I think I will survive.
Shall we get this party started?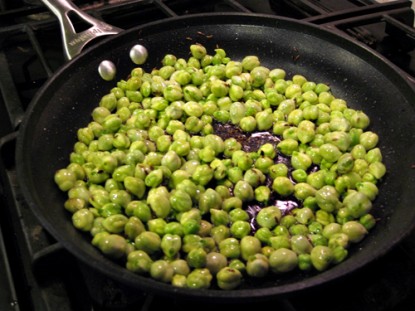 Great Green Garbanzo Beans
4 cups green garbanzo beans, shelled
3 Tablespoons olive oil
1 teaspoon cumin seeds
salt and pepper to taste
Put olive oil in pan over high heat.
Add cumin seeds. Cook until seeds start to "pop". Shake pan like when making popcorn.
Add green garbanzo beans, reduce heat to medium.
Cook for 10-12 minutes to desired consistency.
Salt and pepper to taste.
Serve hot as a side, or added to noodles, or cool completely and toss with a salad.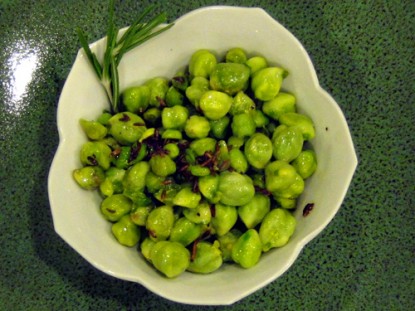 Get the handy print page and save this to your recipe box here:
Green Garbanzo Beans.

Larissa blogs at The Henway.


Do you have a recipe post or kitchen-related story to share on the Farm Bell blog?
Read information here for Farm Bell blog submissions.

Want to subscribe to the Farm Bell blog? Go here.