My oldest son is in University and lives in the city. Of course he comes home on a regular basis, to drop off his laundry and to "shop" in my pantry and freezers.
Today's students don't want to suffer, but want to drive an almost new car, have the fanciest phone there is, etc. He loves to buy food in the fast-food stores on campus, even he if couldn't afford it. That couldn't prevent that one day–he was simply broke. So I helped him make budgets and I told him not to buy prepared food anymore but make his own. "I don't have time in the morning," was his reply.
So now every time he comes home, we make lunches and breakfasts ahead, wrap and freeze them. There are 2 big time favorites–the breakfast burrito and theStacker.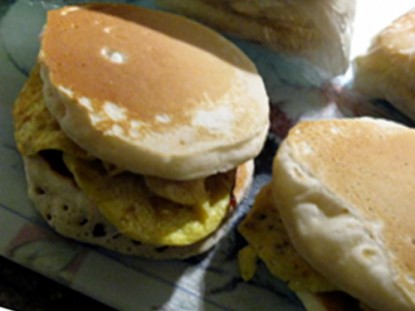 Breakfast Stackers
Even number prepared pancakes
Syrup
Breakfast meat of your choice
Eggs seasoned to your liking
Cheese if you'd like
All I–we–do is make the batter for pancakes–this can be a mix or your own.
Bake an even amount of pancakes then spread syrup on them while still warm. The syrup will soak in the pancake.
After you're done making the pancakes, make the meat. We don't like the patties, so we use either ham or bacon. Today we used the bacon.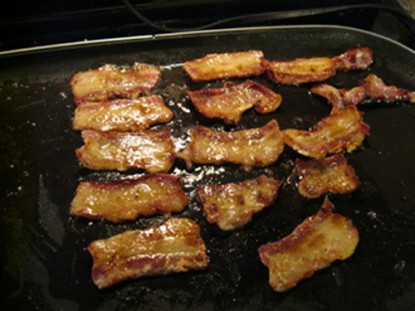 Next are the eggs. I have 45 chickens and not all the eggs are sell-able–the ones that are weird looking or too big, are perfectly fine, so I mostly use them for baking or in this case, for the Stackers.
Mix eggs, pepper, little hot sauce or whatever you like. Cook together until done.
Simply add the eggs on top of the bacon, use a slice of cheese if you like and stack it all together.
Wrap separately in waxed paper and some saran wrap.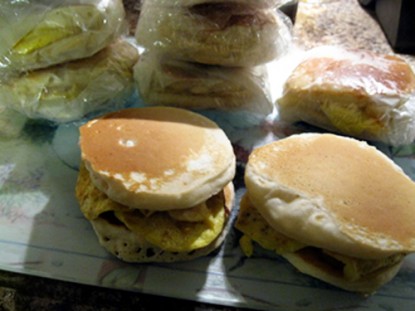 Throw them in the freezer and take one out when you are in a hurry and pop in the microwave. And, in my sons case, RUN to catch the bus to campus.
This is way cheaper than buying all the time. Plus with eggs from my chickens, bacon from my pig, cheese from my cow, I know it is honest food he is eating.


Get the handy print page and save this to your recipe box here:
Breakfast Stackers.

Astrid blogs at Apple Tree Acres. Find the English translation here.


Do you have a recipe post or kitchen-related story to share on the Farm Bell blog?
Read information here for Farm Bell blog submissions.

Want to subscribe to the Farm Bell blog? Go here.