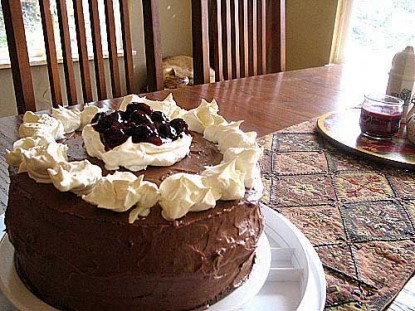 Difficulty: Easy
Servings: 12
Prep Time:
30 minutes
Cook Time:
20 minutes
Ingredients
2 cups all-purpose flour
1 3/4 cups sugar
1 teaspoon baking powder
3/4 teaspoon baking soda
1/4 teaspoon salt
1 1/3 cups water
1/2 cup shortening
1 teaspoon vanilla
2 eggs
3 1-ounce squares unsweetened chocolate, melted
2 1-ounce squares semi-sweet chocolate, melted
Cherry Filling
Fudge Frosting
Directions
In a large mixing bowl, combine flour, sugar, baking powder, baking soda, and salt. Add water, shortening, and vanilla. Using an electric mixer, beat well. Add eggs and melted chocolate; beat till combined. Pour batter into three greased cake pans. (These will be thin layers.) Bake at 350-degrees for 20 minutes. Cool on wire racks.
For the Cherry Filling–
15 ounces frozen dark sweet cherries
2/3 cup juice (berry-flavored)
1 tablespoon cornstarch
In a small saucepan, combine ingredients. Cook and stir till thickened and bubbly. Cook and stir two more minutes. Cover and chill completely.
For the Fudge Frosting–
1/3 cup butter
1/2 cup unsweetened cocoa powder
4 1/2 cups sifted powdered sugar
1/4 cup milk
1 1/2 teaspoons vanilla
In a bowl, beat butter and cocoa till fluffy. Gradually add 2 cups of the powdered sugar, beating well. Slowly beat in the 1/4 cup milk and the vanilla. Beat in remaining powdered sugar a little a time, adding more milk if necessary.
You'll also need whipped cream to put the cake together. Here's how:
Spread a ring of frosting over the bottom layer. Spoon a little less than half of the cherry filling into the middle, then top with the second cake layer. Spread another ring of frosting over the middle layer, then top with a ring of whipped cream.
Spoon most of the rest of the cherry filling in the middle of the frosting/whipped cream ring, then top with the final layer. Frost top and sides of cake. Add a ring of whipped cream, then place more whipped cream in the middle and top with remaining cherry filling. Freeze cake for at least a couple of hours; let stand at room temperature about 15 minutes before serving.
Submitted by: suzanne-mcminn on December 18, 2010