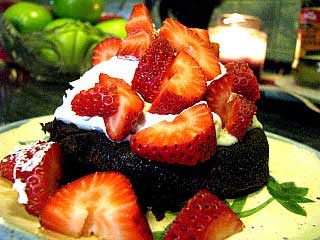 Difficulty: Easy
Servings: 4
Prep Time:
15 minutes
Cook Time:
10 minutes
Ingredients
5 1-ounce squares semi-sweet baking chocolate
1/4 cup butter
2 eggs
2 more egg yolks
1/4 cup sugar
2 teaspoons vanilla
1 tablespoon instant coffee
1 tablespoon all-purpose flour
whipped cream and strawberries
Directions
Grease four ramekins (individual serving size oven-safe custard or souffle cups). Melt butter and chocolate in a small pan and set aside to cool. Meanwhile, combine eggs, egg yolks, sugar, vanilla, and instant coffee in a bowl.
Using an electric mixer, beat egg mixture for about five minutes, until it thickens. Add flour and melted chocolate/butter; stir to combine. Pour batter into baking dishes.
Bake immediately, or if you're preparing ahead, cover the dishes with plastic wrap and refrigerate to bake and serve warm later. (If refrigerated, let the dishes come to room temperature before baking.)
Preheat oven to 400-degrees. Bake for 10 minutes. If you stick a toothpick in the middle, it'll look like it's not done. Take it out anyway. It's all that melted chocolate ERUPTING LIKE LAVA. Okay, not really, but it does make it gooey. And it will not leave your home coated in volcanic ash, so it's all good. Let cakes cool for five minutes. Slide a knife around each cake and invert onto dessert plates.
Submitted by: suzanne-mcminn on December 18, 2010