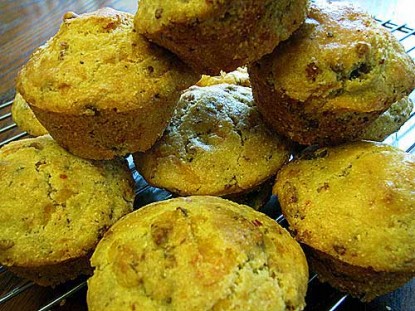 Difficulty: Easy
Servings: 12
Prep Time:
15 minutes
Cook Time:
15 minutes
Ingredients
1 cup all-purpose flour
1 cup cornmeal
1/4 cup sugar
1 tablespoon baking powder
1/2 teaspoon salt
1/4 cup butter (cut up) or oil
2 eggs
1 cup milk or buttermilk
1 pound cooked sausage
1 cup shredded cheddar
Directions
Note: If using my homemade cornbread mix, replace the first six ingredients with 2 1/4 cups of mix. (Find my cornbread mix here.)
Fry sausage; drain and set aside. In a mixing bowl, stir together flour, cornmeal, sugar, baking powder, and salt. Add butter or oil, eggs, and milk or buttermilk. Stir to combine. Don't overstir. (Sometimes more or less milk is required, depending on slight variations in measuring dry ingredients–add what you need to get a nice, thick almost pourable-but-not consistency.) Add sausage and shredded cheddar. Go ahead and fill the muffin cups quite full.
Bake at 425-degrees about 15 minutes. (Don't overbake.)
If you have leftovers, store in the fridge then reheat. You can use any type of cheese you like, not just cheddar, and you can also add chopped onions or peppers! But I'm kind of a purist with these most of the time. I want sausage and cheese and nothing else in them. What more could you want?
*Makes 12 muffins.
Categories: Appetizers & Snacks, Breads, Breakfast, Muffins
Submitted by: suzanne-mcminn on July 25, 2010