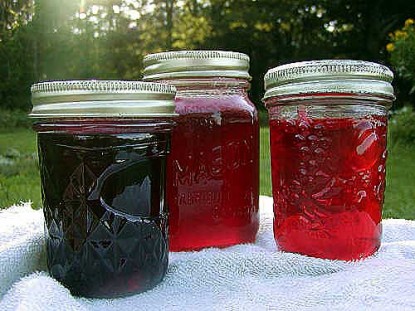 Difficulty: Easy
Servings: varies
Prep Time:
overnight
Cook Time:
10 minutes
Ingredients
2 cups flower petals (or fresh young herb leaves)
2 1/4 cups water
1/4 cup lemon juice
600 oz liquid pectin (2 packages) or equivalent powder*
4 cups sugar
* You may find that the liquid works better for this purpose than the powder.
Directions
This is the basic recipe: Same amount of water and flower/leaf material. Twice that total in sugar. One package of pectin per approximately 1 cup of water used, before adding the flower petals and sugar. You can make jelly from whatever amount you have.
In a small glass or stainless saucepan, bring the flower petals or herb leaves in the water to a boil. Cover and set aside. Let this sit overnight or for a several hours. Strain, squeezing out all the water into the saucepan. Put the pulp into the compost. This water is called an "infusion". Bring the water to a boil with the lemon juice and stir in the sugar until all is well dissolved.
Stir in the pectin and boil hard for two minutes. Pour into hot, sterilized jelly jars. BWB 10 minutes. Store at room temperature. Refrigerate after opening.
Categories: Boiling Water Bath, BWB Jams, Jellies, Butters & Preserves, Canning, Preserving
Submitted by: runningtrails on August 6, 2010