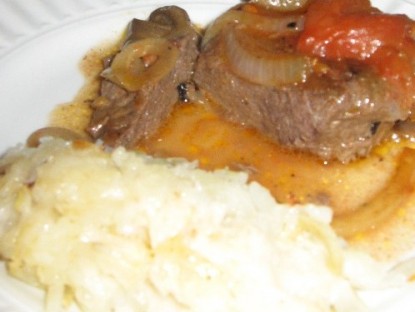 Difficulty: Easy
Servings: 6
Prep Time:
20 min
Cook Time:
20-30 min
Ingredients
2 pounds venison backstrap chops or tenderloins
1/4 c vegetable oil
small or medium onion
Canned tomatoes
Seasonings of choice (cumin, chili powder, garlic, sea salt–whatever you would like)
Directions
Heat vegetable oil over medium heat. Don't crowd the pieces, you don't want them to stew each other.
Sear for about 3 minutes on each side.
Chop onion and add to the oil. Saute until transparent.
Put the meat in a baking dish.
Add canned tomatoes to the onions. Add seasonings.
Let the tomato mixture simmer for about 5 minutes, just long enough to dissolve the salt, then pour over the meat.
Bake at 425 for 20-30 minutes.
Categories: Main Dish, Wild Game
Submitted by: rmr1984 on April 25, 2011