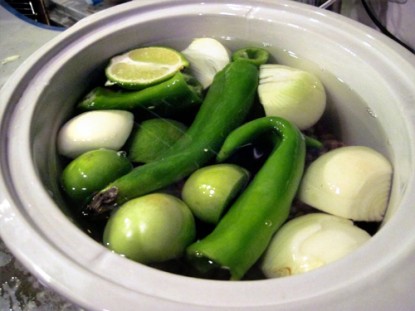 Difficulty:
Cook Time:
4-6 hours in crock pot
Ingredients
3 cups dried beans (will depend on size of crock pot)
1 tsp of baking soda (to reduce the toots!)
1 onion
2 peppers, mild or hot
1 bunch cilantro
1 tomato
2 tablespoons bacon grease, oil, lard, or similar fat (I just toss in a few pieces of uncooked bacon)
Salt to taste
Directions
Soak beans overnight in water-filled crock pot.
Drain water, rinse beans, and add water to cover beans. If you are going to be cooking them for a while, you may want to add extra water.
Chop veggies. Add remaining ingredients to pot.
Cook on low for 4-6 hours.
Remove from heat, use hand or potato masher to mash up beans.
BEWARE THE HOT BEAN SPLATTER!
Reheat if necessary.
Categories: Beans, Grains & Rice, Crock Pot
Submitted by: laree on March 19, 2011