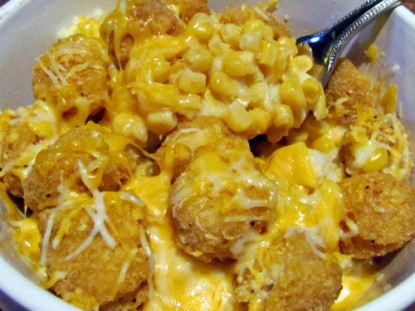 Difficulty: Easy
Servings: as many as you'd like
Prep Time:
5 min (putting together)
Cook Time:
1 min microwave
Ingredients
Mashed potatoes, heated
Whole kernel corn, heated
Popcorn chicken, chicken nuggets, chicken pieces, heated–homemade version nuggets
Gravy, heated
Shredded Cheese
Directions
Grab a bowl. Layer–mashed potatoes, corn, chicken, gravy. Add cheese to top. Put in the microwave for a minute or less to get the cheese all melty.
Categories: Leftovers, Main Dish, One Dish Meal, Potatoes, Poultry, Side Dishes
Submitted by: cindyp on January 11, 2012