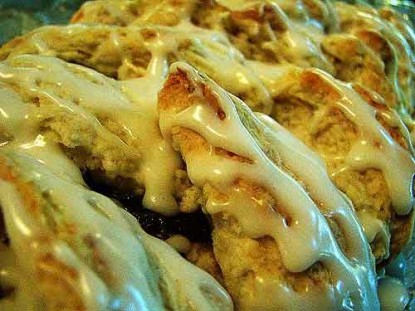 Difficulty: Easy
Servings: 10
Prep Time:
10 minutes
Cook Time:
25 minutes
Ingredients
3 ounces cream cheese
1/4 cup butter
2 cups Quick Mix or other baking mix
1 tablespoon sugar
3/4 cup milk
approximately 3/4 of one jam-sized (half-pint) jar of apple butter (or any jam of choice)
Powdered Sugar Icing:
1/2 cup sifted powdered sugar
1/4 teaspoon vanilla
milk (one to two teaspoons)
Directions
You can find my homemade baking mix, Quick Mix, here.
Cut cream cheese and butter into baking mix plus the one tablespoon of added sugar using a pastry cutter. (If you don't want this to be as sweet, leave the extra sugar out. Depends on your sweet tooth!) Add milk. Mixture may seem a little dry; knead with your hands to work in remaining dry ingredients and form a soft ball. (If your mixture is too wet, add a little more flour, but it should be just right now.) Roll out on floured waxed paper, sprinkling flour on top, too, into an approximately 12×8 rectangle. Transfer dough to a greased cookie sheet. Make two and a half inch cuts all along the long sides. Spread most of a half-pint jar of apple butter down the center. Criss-cross cut strips of dough over the top and pinch ends to seal. Bake in a 375-degree oven for 25 minutes or till nicely browned on top. Combine powdered sugar, vanilla, and enough milk for drizzling consistency. Drizzle top of coffee cake with icing.
Categories: Breads, Breakfast, Coffee Cake
Submitted by: suzanne-mcminn on July 26, 2010