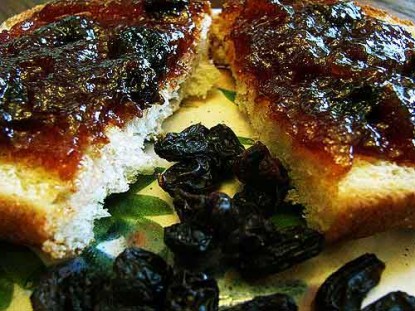 Difficulty: Intermediate
Servings: multiple
Prep Time:
a couple of hours
Cook Time:
10 minutes
Ingredients
2 quarts apple pulp
4 cups sugar
1 cup raisins
2 teaspoons cinnamon
1/2 teaspoon cloves
1/2 cup rum
Directions
For each batch per this recipe, you'll need about four pounds (maybe 16 medium) apples (or more if your apples are small).
Cut, peel (if you must, see note), and core them. Place in a large pot; bring to a boil and simmer until soft but not liquified. Puree using a food processor or food mill.
Note: I don't peel them. I just cut, core, and cook. I use a food mill, and by the time the apples go through the food mill, the peel is pretty well strained out. (It's so much easier not to peel!)
What you want to end up with is two quarts of apple pulp (per recipe batch).
Combine apple pulp, sugar, spices, and raisins in a large pot. Simmer slowly until mixture thickens and rounds up on a spoon. (May take a couple of hours.) Stir frequently. Toward the end of the simmering time, as the mixture is thickening, add 1/2 cup rum. (Don't add the rum earlier as you don't want all the good rum flavor to boil away!) Simmer a little while longer until mixture is thick and ready for canning. Ladle hot butter into jars, leaving 1/4-inch headspace. Put on lids and bands.
BWB 10 minutes.
For me, this makes about six jars (half-pint size). You can double, triple, etc, the recipe to make as much as you want. Your house will smell great while it's cooking!
Categories: Boiling Water Bath, BWB Jams, Jellies, Butters & Preserves, Canning, Preserving
Submitted by: suzanne-mcminn on July 26, 2010